Our church has a rather ancient pipe organ, built between the late sixteenth and early seventeenth century by Cesare Romani. Restored in 1994 with philological criteria still retains much of the original material. The instrument is on the left side of the triumphal arch, while on the right side there is a choir with fake rods. The sound of this instrument accompanies the most solemn liturgical celebrations, helping our faithful to gather in prayer. In fact, the music emphasizes all the moods of the orante, from the sadness composed of Lent, to the joy of Christmas, to the joyful exultation of Easter morning.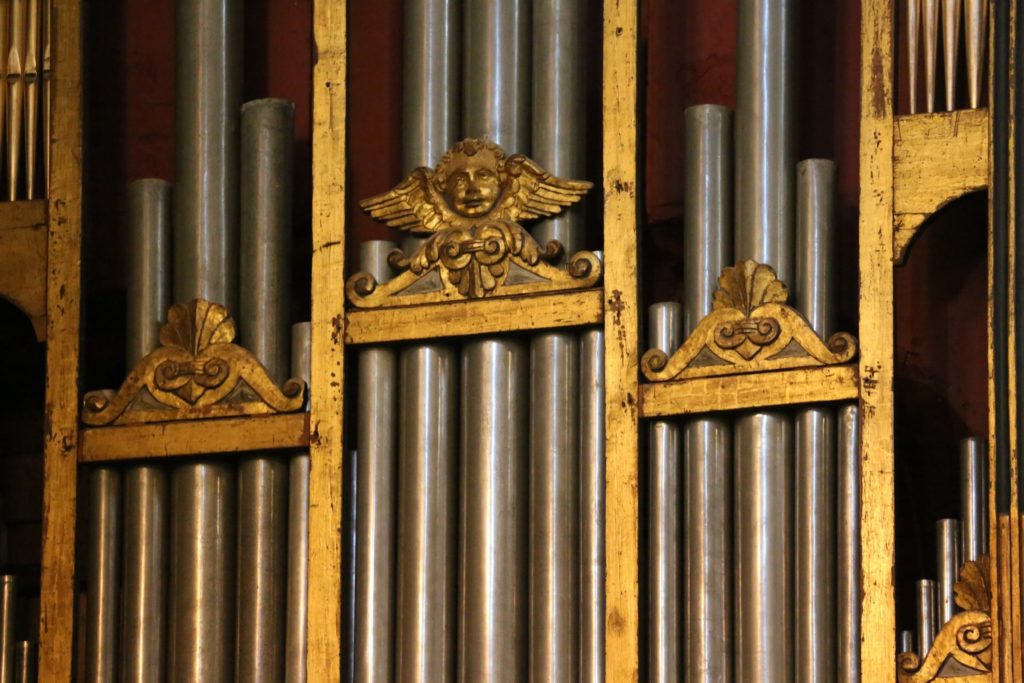 Data sheet*:

Builder: Cesare Romani
Year: late sixteenth century - early seventeenth century
Restorations / modifications: Francesco Zanin (1994, conservative restoration)
Registers:  6
Pipes: ?
Transmission:  suspended mechanics
Console: window, in the center of the front of the case
Keyboards: 1 of 48 notes with first octave steps (C1-C5, with enharmonic keys in G#2 / A♭2, G#3 / A♭3, G#4 / A♭4)
Pedalboard: 8-note loudspeaker (C1-B1), without its own registers and constantly combined with the manual
Location: in a single body, on the cantoria next to the right hand wall of the left transept
Manuale

---

Principale
8'
Ottava
4'
XV
2'
XIX
1.1/3'
XXII-XXVI
1'
Flauto
4'
Pianist, harpsichordist and organist performs her activity in Italy and abroad with orchestras and chamber groups and has collaborated on various occasions with the Maggio Musicale Fiorentino orchestra. She participated in theatrical productions under the direction, among others, of the masters Khun, Norringthon, Zedda, Noseda and with directors such as Ronconi, Pizzi and Gasparon. She performed for concert seasons at many associations, institutions and festivals including Micat in Vertice, Settembre Musica in Turin, Scuola Civica di Milano, Toscana Festival, Montepulciano International Art Workshop, Summer School for Music and Arts of American Universities. Artistic director of musical events and concerts alternates the professional activity as a soloist to that of collaborator of singers and instrumentalists. She recorded for Vatican Radio, RAI and ZDF. She recorded for Dynamic and Le Carrozze Records.
Listen our pipe organ played by Angela Castellarin:
Your browser does not support the audio element.